On the court, being able to aim the volleyball is essential. Regardless of which position you play: you need to be able to put the ball in the right place.
Despite its importance, this can be a difficult skill to learn. Thankfully, with a few changes to your form and some drill work, you will be able to improve. Keep reading to learn more about how you can aim better on the volleyball court.
Getting the Right Stance When Passing the Ball
The way you hold your body when you make contact with the ball will determine the amount of control you have. It will also allow you to use the right amount of force.
The type of position you are playing will determine the type of position you need to be in. If you are a defensive player, your role is to allow your team to get control of the ball. You will then need to pass it to your teammates, so they can deliver a powerful serve. Here are some of the things you need to focus on:
Keep your legs shoulder-width apart. You should also bend your knees. This will allow you to absorb the right amount of force from the impact of the ball, resulting in as much control as possible. You should position yourself on the court to make sure that the ball is coming down right in front of you.
Create a flat platform. Next, you need to bring your arms together, lining your thumbs up. This will create a flat area. This is where you get the ball to land, it will give you the most control when you are passing.  Ideally, the ball should be hitting both arms at the same time.
Use your shoulders to aim the ball. Finally, you will find it difficult to use your forearms to aim your pass. Because of this, you will need to use your shoulders, tilting them in the direction that you want the ball to travel.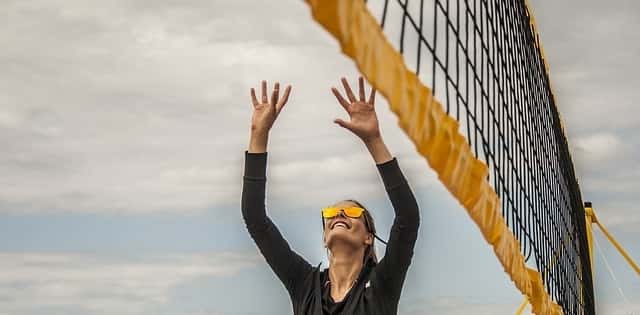 Drills for Passing the Ball
It can help to spend a little time working with a coach, making sure that you have the right passing stance. Once you are comfortable with this aspect, you can move on to putting these skills into practice. The best way to do this is by doing a few passing drills.
There are dozens of these to explore. But some of the best options are:
Passing to a partner. This is a good option in a group environment. The coach will put you into pairs. You will need to stand in a line across the court. Then, you will be required to pass the ball to each other. The aim is to get your pass so accurate that your partner doesn't have to move to return it. Over time, you can increase the distance to make the drill more challenging. You can do this at home with a friend. You need to find someone to toss you the ball. It will then be your responsibility to pass it back to them.
Racing to the ball. The next thing to practice is keeping your eye on the ball and getting into position quickly. These are the areas that this drill is designed to address. In this case, the coach will throw the ball into the air and to either your left or right. You will need to track its path and get into position to hit it back before the ball hits the ground. Click here for 7 Easy Volleyball Passing Drills For Beginners
Keep Your Eye on the Ball
This is one of the most basic elements you need to master. You need to get used to following the ball. This will let you figure out its trajectory. You will be able to make sure that you are getting into the right place when it lands.
Getting the Right Stance When Serving
While accuracy when passing is important, it's even more important when you are serving. This is your chance to attack your opponents and land some points. However, it will require you to be an accurate shot.
Multiple things will determine your ability to serve correctly. But the most important element will be your stance when you are serving. In this case, you will need to do a few key things. First, your stance will determine the amount of control you will have over the ball and how much force you are putting onto the ball.
There are a few ways that you need to do to make sure that you have a good stance when serving, these are:
Get a comfortable stance. You will usually need to start by placing one foot in front of the other. You should feel balanced and comfortable in this position.
Face towards your target. Next, you need to turn your body in the direction that you want the ball to go.
Shift your weight. When you are tossing the ball, you want to put your weight onto the back foot. After it's in the air, you will want to shift your weight forward. This will allow you to put the most effort into the serve, so you can get the height needed to clear the net. Your arm should follow through after making contact with the ball.
It's always a good idea to practice your form at home. Then, you can get your coach to check it and offer pointers the next time you are in the gym.  Click here for 10 Volleyball Serving Tips for Beginners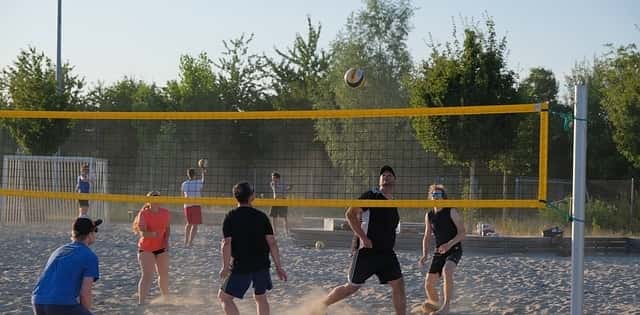 Drills When Serving the Ball
In a game, you will need to be able to make a precise serve, putting the ball exactly where you want it to go. This will often be informed by the tactics, observing the way your opponents are positioning themselves on the court. There are a few ways you can improve your accuracy during training, these drills include:
Practice your toss. It can be easy to overlook your toss. But it is one of the most important elements of a serve. In this drill, you want to stand with your left foot out and the ball in your left hand, directly in front of your ball. Toss it straight in the air.  Keep repeating until it is landing next to your foot.
Building your accuracy. One of the most common drills is to have a teammate stand on the opposite side of the court. You will then need to serve the ball to them, they aren't allowed to move to catch it.  You can do this at home, using a net or a bin.
Serving at a wall. If you are looking for an easy drill that you can do at home, you can try serving at a wall. In this case, you want to mark a square on the wall. Then, stand back and serve, your goal is to try to get the ball to land in the square.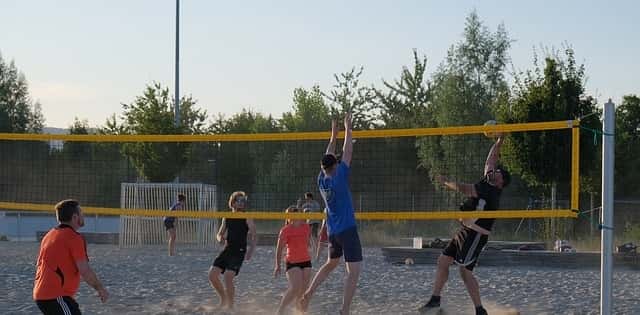 Practice Makes Perfect
Regardless of which position you are playing, it's important to make sure that you are practicing your accuracy regularly. It should be an area of focus in each training session and something that you work on when at home. As you are doing this, think about the stance that you are using and the way you are hitting the ball. Click here for How to Practice Volleyball by Yourself
Final Thoughts
Being able to hit the ball accurately is one of the most important skills that any volleyball player needs to master. The good news is that there are plenty of drills you can do to improve your performance on the court. You won't see results instantly. But if you keep working on it, you will start to reap the rewards in the next few weeks or months.