With fall and indoor volleyball season around the corner, it is the perfect time to think of gifts for the volleyball players in your life. Whether the present is for teammates, friends, or coaches, matching it to their beloved passion is both thoughtful and meaningful.
No need to search the internet for hours looking for the best options; we have composed the list for you! Check out the 20 best gifts for volleyball players.
Novelty gifts for volleyball players
Not every gift has to be functional. Many times a volleyball player will appreciate a volleyball-themed gift to show off outside of the court. These options provide a taste of volleyball in the everyday world of your favorite player.
1. Jewelry
Etsy is home to unique jewelry and artsy discoveries. Like many sports, the popular site is home to volleyball finds. These adorable volleyball earrings are the perfect addition to any outing with the team. With the option to be monogrammed for an additional personality pop, these earrings let your volleyball player know the gift was specialized for her. 
If you are looking for dangly earring options versus studs, check out these fun beauties. Instead of a name or initial, you can monogram the balls with the jersey number and change the background color to represent school spirit.
Perhaps earrings are not your ideal gift, and you'd instead opt for rings, bracelets, or necklaces. Have no fear; Etsy will not leave you out to dry.  WearFelicityCo has the sweetest heart spiraled volleyball ring for sale. If you want to leave out the heart and opt for the volleyball feel, check ROSCOESilver's version of the spiral ring.
Adjustable hemp bracelets are the perfect sporty look for your player who likes jewelry that is not too glitzy. TheEnglishIvy has almost every color band available for ideal customization of team colors or favorite shades. However, if dainty and straightforward is more the style, DiamondRoseJewellry's single charm bracelet is the one for you.
Bar necklaces are all the rage, making statements from music awards to high school hallways. WordsByHeartCo has you covered! Their volleyball bar necklace lets you customize with both name and font, as well as an optional number. Check out JewelerBaazar's gold monogrammed volleyball if you are looking more for a circular replication of a volleyball.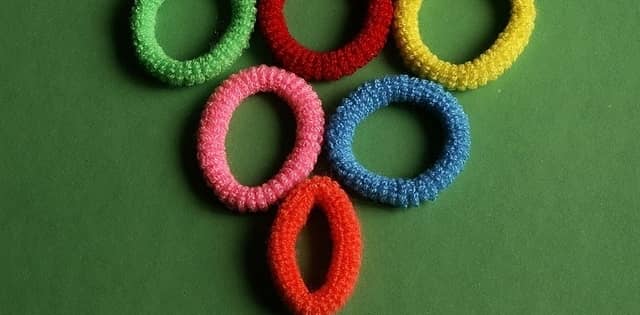 2.Hair options
With the movements of volleyball, keeping hair back is a concern for players. That said, a little glitz and glam for hair options can drive the practical to fashionable and make a great gift. For example, stretch headbands not only catch hair but can double to keep sweat from the eyes. Funny Girl Designs offers monogrammed stretch headbands with customizable options for name, color, embroidery color, and font.
Junk Brands is another option for your sporty player. Instead of straight volleyball themes, they offer donuts, cosmic unicorns, psychedelic smash, and wreckless hearts. These headbands are perfect for guy and girl volleyball players alike. Many options carry an SPF rating, so they are fabulous for beach volleyball players.
If scrunchies are the style of your player, check out Kenz Laurenz volleyball-themed scrunchies. Made with velvet, the scrunchies won't slip in the hair, and because of no exposed rubber band, the scrunchies won't yank out hair when removed. These can be a cost-affordable option for a team gift for the holiday season.
Instead of scrunchies, these adorable hair ties still hit the mark without the bulk. PeachPoppyCo options allow customizing colors to match your team. There is even an option for an additional message for your player!
3. Keychains
Keychains are a popular gift for anyone. Drivers can carry around a symbol of who they are wherever they go, and youth can attach the chain to a zipper of a bookbag to showcase their sport. Whatever your reason or use, a keychain is a functional symbol of who you are. What better gift to give to your favorite volleyball player than one that shows off the sport they love?
This adorable pink and white volleyball makes for a distinct bag tag to differentiate your player's bag from her teammates'. If you want something with some more bling and less generic, this flashy keychain sports charms and your player's initial. However, if pretty and uncomplicated make your player's eyes twinkle, check out OutGirled's keychain. Customizable tassel colors and personalization makes this option hit the spot.
4. Blankets
CafePress offers a plethora of options for volleyball blankets. Some are customizable, while others are unique in their own right. If you want something a little cheaper but with more sass, check out Stichandprintstudio's blanket. One popular blanket is the fleece tie/no-sew blanket. YourFleeceYourCotton has a volleyball fleece no-sew option for those at-home crafters.
5. Pillows
A fun and somewhat functional item are pillows. These can be displayed on the bed, taken to team sleepovers, or carried on for road trips. Let your gift be front and center for whatever activity yields your volleyball player a need to rest her head.
This throw pillow is square and small enough for travel and can double as a road trip headrest. If a pillowcase is more your method, check out this gorgeous teal and blue spiral patterned pillowcase. Zazzle sports a customizable round pillow showcasing the team name and colors, player's name, number, and year.
6. Sweatshirts 
Statement shirts and sweatshirts are the opportune way for your player to show the world the volleyball court is their home. If your player is also a fan of coffee, why not combine these two passions with an iconic Starbucks Volleyball Shirt? If you are looking for something a bit more official, check out USA's Volleyball Sweatshirt. If a free-spirited feel is more your player's vibe, this boho-inspired sweatshirt from PurpleAspen is your ticket. Still feeling more like personalizing the shirt? OurWildflowers has you covered.
7. Socks
Who doesn't like a pair of fun socks? Red Bubble features a variety of volleyball socks for you to pick for the volleyball player in your life. However, if that isn't quite the look you are going for, check out Chalk Talk Sports line of volleyball-themed socks. From volleyball terms printed on the socks to the personalization of numbers, they have a spread for anyone.
8. Art/Stickers
Let your player show off their unique style with art! Nothing inspires the more profound, intrinsic nature of sport than beautiful artwork on a wall. FranceesWorld brings bold, bright colors to the walls with prints both stimulating and affordable. If you want something a little more retro, this vintage-inspired hand signal print is the gift for you. On the other hand, if you want more of a living room, statement piece, check out AbstractWog's volleyball wall panels.
Perhaps a large print is not exactly the route you want to take. Instead, small stickers your player can use to decorate phone cases, laptops, water bottles, and notebooks are more the direction you feel. No worries. VictorySportsGraphic has water bottle stickers, DelmarvaStickerShop sells variety packs, and NRGStickers allows for number personalization.
9. Yard Flags
Garden flags are the perfect decoration for dressing up the house of a volleyball player. Secondeast provides personalization options to their garden flags. PollysDesignsNGifts goes a step further by allowing a picture of the player to paint the flag. If you are looking for something a bit more generic, Walmart even carries volleyball garden flags.
10. Coloring Books
It's no secret coloring can help lower stress levels. What better gift to give to an athlete than a coloring book they can pack in their bags when traveling to big tournaments or even for downtime in between games. Amazon's "The Big Volleyball Coloring Book" comes highly recommended, although reviewers warn the theme may be more toward children, and there are a few misspellings in the book. Target offers its version of a volleyball coloring book, although reviews of this particular option are hard to find.    
11. Light up Volleyball
Playing outside during a backyard get-together is a classic evening for a volleyball player… until the sun sets. But why let all the fun stop there? Get your player a light-up volleyball and let the laughs continue. This volleyball has an internal sensor that will stop lighting up after 60 seconds without movement.
Functional or practical gifts for volleyball players
Not every gift has to be purely fun. Sometimes a functional item makes for a precise present. A gift that can be used in training to elevate them to the next level could be what they actually need and want. 
12. Jazzed up volleyball
Just because you need a volleyball doesn't mean they can't have one with some style. Wilson's graffiti volleyball is the look for your player who has a stand-out personality. With bold colors and a fun vibe, your player will make a statement with this ball.
13. Portable Net
Why let location stop the opportunity for training? This portable, regulation-sized net from Dicks Sporting Goods allows you to pick up a game wherever you are. Bonus: it even comes with a ball! Keep in mind, it takes two people to set up but considering it takes at least two people to hit a ball back and forth, that shouldn't be a problem.
14. Shoes
For newer players, shoes may seem frivolous and perhaps unnecessary, yet they give street cred to opponents and help to set players in the mindset of performing their sport. For older and more advanced players, volleyball shoes are necessary to protect the joints, soften the landings, and navigate side to side movements. So help your favourite player out by purchasing a pair of volleyball shoes for those daily training sessions. They will think of you every time they lace them up.
Click Here for Top 5 Best Women's Volleyball Court Shoes for Indoor Games
15. Jump Monitor
If you are okay with spending some coin, VERT's jump monitor is the hot ticket item. This incredible device monitors and records how many jumps you perform during practice, the percentage of effort and consistency, your average jump, your best jump, various tests such as lateral launch and approach vertical, stress percentage, and more. A VERT jump monitor is the creme de la creme of gifts.
16. Kneepads or ankle braces
Volleyball players take a beating on their ankles and knees. From diving for balls to quick movement changes, anything to help protect their knees and ankles is a charitable gift. Some players have specific brands they use, but less intense or experienced players will be happy with the thought of the present. CanuckStuff has a handful of ankle braces and knee pads, often on sale and sorted by name brand for ease of shopping.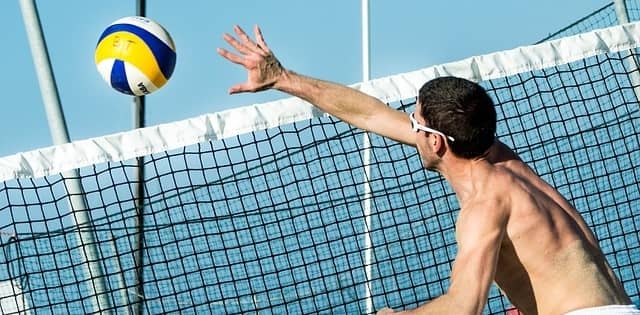 17. Volleyball Training Aid
Volleyball training aids cover a variety of skills, from blocking to spiking. As a result, they fall at all price points and for various purposes. Some aids are stand-alone items, while others require a net to attach and a coach to assist. A few are for solo use, while others are for a team. Whatever the reason, one thing is undebatable; a training aid can help to elevate a player's skills.
18. Water bottles
It has not been long since the Hydroflask craze. Combine this water bottle with some volleyball stickers, and you have a flawlessly functional gift. The Nalgene water bottle is also a favorite of water bottle enthusiasts. This bottle allows for scrub brushes to get into it for cleaning quickly. For a limited time, you can purchase one that provides for a portion of the profit to be donated to the Navajo nation, both rendering a functional gift and contributing to a good cause. Bonus: the Nalgene water bottle can pop into the dishwasher, solving a significant frustration in most water bottles designs.
19. Mizuno Arm Sleeves
Arm sleeves help deflect some of the sting from the ball hitting the forearms. For newer players, arm sleeves help keep their minds on their form versus the pain of the sting. The more advanced a player is, the less these are needed. Mizuna sells sleeves, but reviewers warn that they are sold as a single sleeve versus a pair, although this feature may be helpful when needing to replace a single sleeve.
20. Hand and Finger Exerciser
Rounding out the last of our gifts is a hand and finger exerciser. A favorite tool of athletes and volleyball players, as strong fingers are needed when setting. The Sportsgrip tool, this is an affordable and luxury item for the athlete in your life.