Left-handed people make up around 10 percent of the world's population. But, for them, taking part in the sport can be a little more challenging.
The good news is that being left-handed can be a huge advantage in volleyball. These players are harder for the other team to predict. Keep reading to learn 10 of the best tips to help you excel at volleyball as a left-hander.  
1. Become a Setter
Being a left-handed player doesn't need to be a downside. In fact, in some positions, being a left-handed player can be a huge benefit. A good example of this is being a setter. You will have a huge advantage when playing on the right-hand side of the court. In this case, the ball will be going to your dominant hand first. This will allow you to have more control, so you can get the ball where you want it to go.
Click here for 23 Tips to Become the Best Volleyball Setter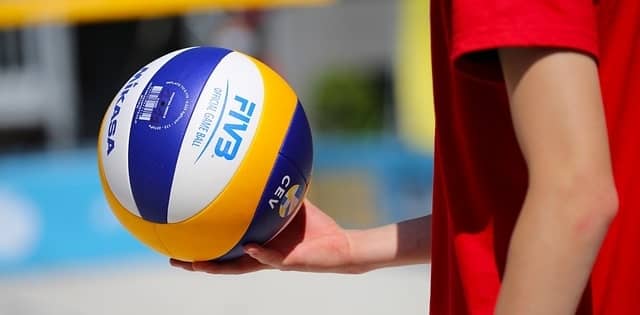 2. Act as a Right-Side Hitter
Another popular position is the right-side hitter. Someone left-handed will often find it easier to get a good swing. As a result, there is a wider variety of places where they can put the ball, for a stronger attack.
3. Play on the Right Side of the Court
It's most common to see left-hand players playing on the right side of the court. This is where they will be most dangerous. If they are the serve receiver, they have a few choices. They can choose to set the ball up for the offence. On the other hand, you might decide to jump and block the ball or spike it over the net.
Most of the time, you will be setting up for the offensive plays. But it just takes a few unorthodox moves per match to keep your opponents on their toes. Click here for 10 Beginner Volleyball Skills for Right Side Hitters
4. Get the Right Footwork
One of the most important aspects for any player to master is their footwork. You need to get your body into the right position so you will be able to put maximum force behind each hit. However, when you are left-handed, you might need to adapt your approach a little.
Here are the steps that you will need to follow:
Start with your right foot. You'll need to move in the direction that you want to attack.
Take a long step with the left foot. This is about getting the power you need to hit the ball. During this step, you should aim to shift your weight forward.
Begin your jump. When the two feet are in the same place, it's time to start your jump. This should get you into a position where you can comfortably hit the ball.
Remain ready to move. During the game, you should always stay in position and ready to go. This will greatly improve your reaction speed, allowing you to get the ball in time.
5. Tell the Coach
If you are left-handed, it will affect the way that you need to do things. For example, you will need to take a different approach from a right-handed person. Your coach will need to take this into account when they are explaining what you need.
Plus, knowing that you are left-handed will make it easier for them to find the right position for you on the court. This will allow you to use your dominant hand to your advantage.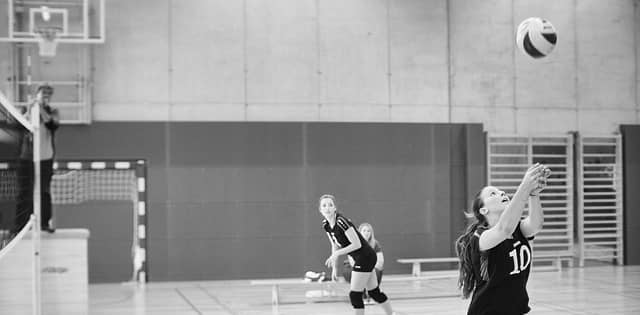 6. Communicate With Your Teammates
Most of your teammates will be used to playing with right-handed people. Often, this won't be a huge problem. But it is something that they will need to bear in mind. They might need to adjust their playing style a little to accommodate you.
You will need to make sure that you are communicating with them during the game. For example, if you are a hitter, you'll need to clear where you want the setter to put the ball. This will ensure that you can deliver the best offensive shot possible.
One of the most common problems is your teammates forgetting that you are left-handed. As a result, they will be putting the ball off your right shoulder, rather than your left. If this happens, you'll need to rapidly adjust your body to hit it or use your right hand. While less than ideal, this kind of quick thinking will stop your team from losing the point.
Click here for How to Build Sports Team Chemistry
7. Learn How to Use Both Hands
Part of being a well-rounded volleyball player is being able to hit the ball with both hands. This is something that right-handed players will also need to work on. This process is known as off-hand hitting. This will allow you to adapt during the game, being able to respond to whatever your opponent is throwing at you. It will also make you more unpredictable. Click here for 10 Volleyball Skills for Ambidextrous Players
 8. Spiking the Ball
One of the most important skills for you to develop is the ability to spike the ball. When done right, this offensive manoeuvre should be enough to win you the point. The principle of the spike is the same, regardless of whether you are left or right-handed. You want to get enough power on the ball to slam it over the net.
Usually, the approach will be similar. Here are some tips a left-handed person needs to keep in mind:
Start the approach with your right foot. As we mentioned earlier, you'll need to start with the right foot, rather than the left foot.
Rotate your shoulders. As you are making contact with the ball, it's important to rotate your shoulders. This will ensure that you are putting the maximum power behind the ball. Keep in mind that you will need to avoid over-rotating, as this can mean that you risk losing control of the ball.
9. Toss With Your Right Hand When Serving
You'll also need to adjust your technique when you are serving the ball. In this case, you will often find it easier to toss the ball in the air with your right hand. This will allow you to use your dominant hand to hit the ball. Another option is to use your left hand to both toss and hit and ball.
It can often be a good idea to practice with both of these methods. See which one suits you the best.  This will tell you which one you will need to use during the competition.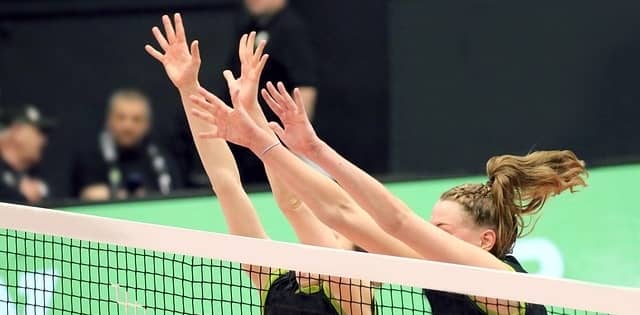 10. Practice Your Volleyball Skills
It doesn't matter whether you are left-handed or right-handed. Ultimately, your success in the world of volleyball will depend on the number of hours you dedicate to practicing. Only through repetitious practice, mock games (or scrimmages), and coaching sessions will you be able to improve.
You will need to get comfortable with using your left hand on the court, becoming more accurate with your shots. You should also put in a little practice at using your right hand. As we mentioned, there is a chance that your teammates will forget that you are left-handed. Because of this, you should be prepared if a ball is served to your right side.
How long your practice sessions should be will depend on your schedule. Many coaches will recommend that they last for at least 90 minutes. Though you can get a good practice session in an hour.
Click here for How to Practice Volleyball by Yourself
Final Thoughts
If you are a left-handed player, it can be a huge advantage in the world of volleyball. You will be able to present a bigger threat to the opposition, as it will be harder to predict what you are going to do. This is especially good if you like to play setter or hitter. All you need to do to achieve great results is adjust your approach a little.