When trying out a new sport, it's natural to try to save costs by using gear you already have. Many people wonder: do you really need actual volleyball shoes to play volleyball? Or can you just throw on a pair of running or basketball shoes.
The answer is YES! You really do need volleyball shoes to play volleyball!
Why? With all the side to side movements, mixed with constant jumping, a volleyball shoe is made to absorb the impact and stick to the floor where needed. They are also lightweight, so that jumping and lateral movements are much easier.
So, what exactly are these mysterious new items that you must have to vamp up your game? What exactly makes them different from other shoe options? Read on to find out more about these game-changing kicks.
Related article: Top 5 Best Women's Volleyball Court Shoes for Indoor Games
What's so special about volleyball shoes?
Volleyball shoes are incredibly specific to the sport. While some sports can skate by using a cross trainer, this can actually cause the performance of a player to suffer, or worse, become a candidate for injury. Let's take a moment to explore the different components of the shoe to figure out what makes this shoe so unique.
Gum Rubber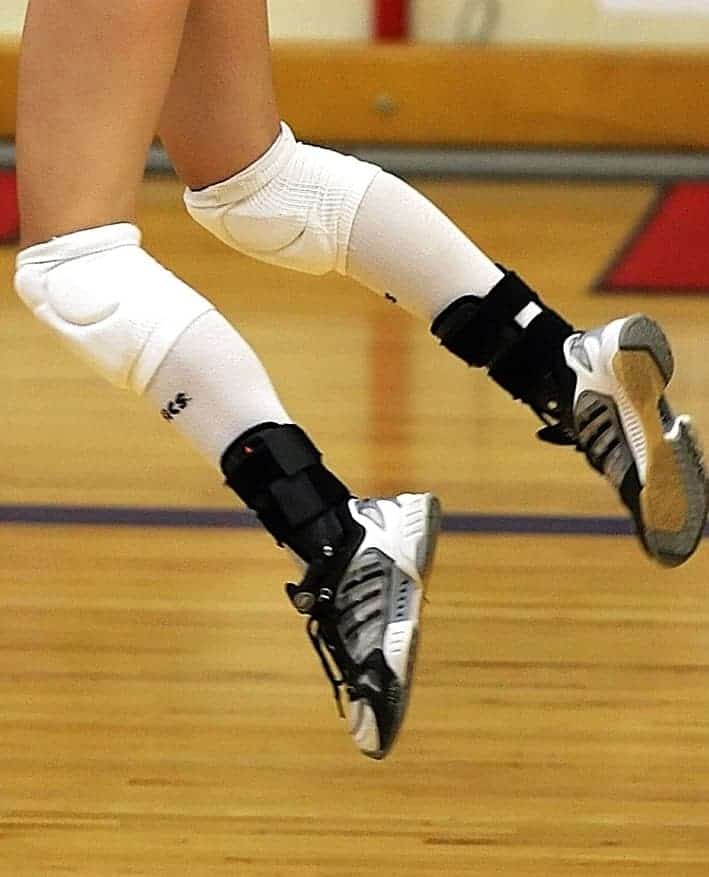 Have you ever heard the words "gum rubber" before? This type of rubber is what makes volleyball shoes so clutch. The rubber is often died to match the shoes but keep the courts skid-mark-free.

Gum rubber is a type of rubber that is soft and pliable. You may have seen this rubber used in tubing or squeegees. Because of its flexibility, gum rubber allows for impact and movement on the court, holding up even after numerous jumps.

Besides just allowing for flexibility, the gum rubber is conducive to the motions of volleyball players. With quick cuts, jumps, stop-and-go type motion, the gum rubber gives necessary traction. This traction and slip-resistant nature of the gum rubber is a force unmatched in another shoe, let alone essential to help prevent injuries.
Mid-sole
The whole purpose of the midsole in a volleyball shoe is to support the ball of the foot. Because a volleyball player spends much of her time on the balls of her feet, the midsole of a shoe must be strong enough to absorb the shock, while still allowing flexibility.

By using a foam, a foam-gel mixture, or air cushions in the midsole, volleyball shoes support the players' stance. With an emphasis on standing on the ball of the feet, players can quickly move forward and side to side without fatigue.
Uppers
Movement of the feet produces heat. Heat breeds sweat and moisture. To keep your feet dry and not slipping around in your shoes, you need a shoe that permits airflow.

The upper section of volleyball shoes typically consists of nylon or mesh. The material grants airflow, keeping moisture at bay and the foot cooler. Cool and dry feet equal a better performance.
Cushion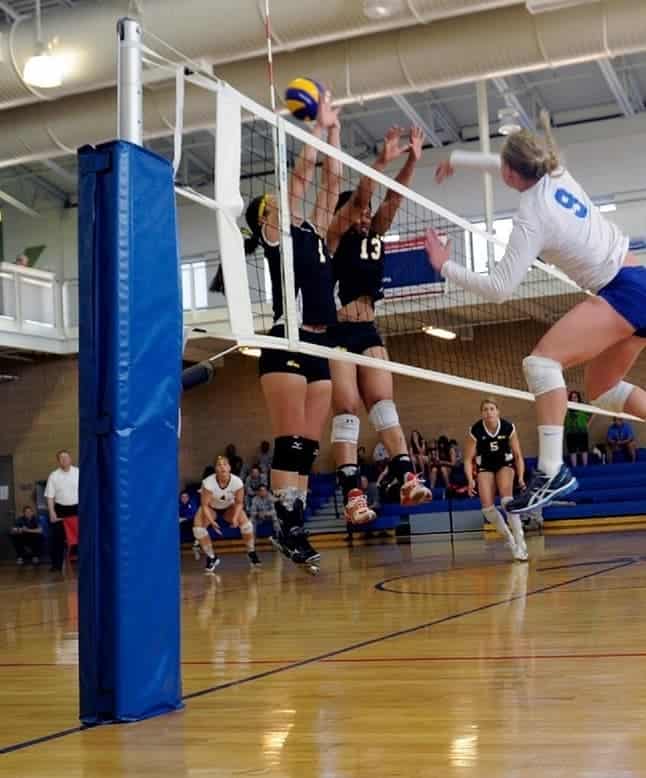 It is imperative you choose a shoe with an adequate amount of cushioning. With jumping so much, the continuous impact that comes with playing can cause your feet to swell. This makes your once fitting shoes now seem quite tight.

The inner cushioning is generally a gel or compression molding. Like the rest of the shoes, the cushioning is designed with the intention of allowing your shoe to absorb shock and simultaneously support the quick cross moves during play. Without this function, you are more likely to sustain an injury during the season.
Lightweight
Forget being weighed down by hefty kicks. Weighing between 9.2 to 11.0 ounces for women and 11.2 to 15.0 ounces for men, the lightweight nature of volleyball shoes allows players to use their shoe to their advantage versus the shoe holding them back.
Fit
A volleyball shoe should fit snugly around your foot, without pinching or rubbing. Similar to other sports shoes, the shoe should not allow your foot to move inside of the shoe. With jump after jump, it does not take long for your heels and sides of the foot to create rub burns or blisters. The last thing you need is to be thinking of how to avoid worsening a raw spot when attempting to block a spike.
What's the difference between volleyball shoes and basketball shoes?
Imagine for a moment, a basketball game. The players dribble the ball down the court, pass, and quickly run a play. One player jumps and shoots and all the players run to the other end of the court. There is a large amount of small, quick sprints mixed with a few jumps.
A shoe for this sport is designed with the activity of the athlete front and center. In this case, quick sprints and some jumping. Dynamic cushioning becomes necessary for basketball, and much of that cushioning is located in the insole. The design of the shoe itself is for the purpose of moving forward and running.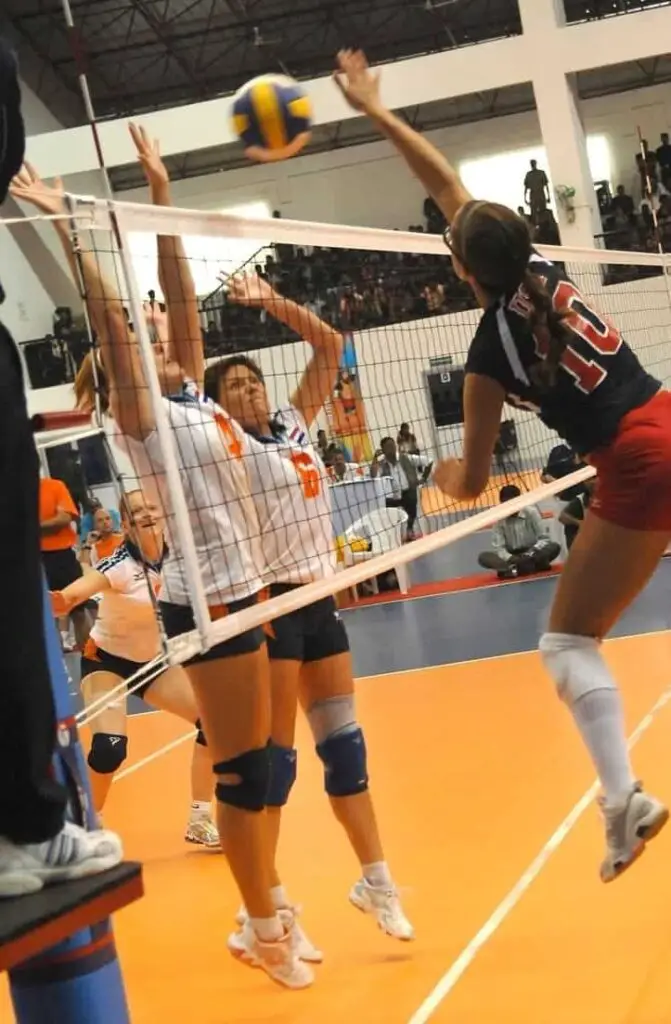 Volleyball shoes, in contrast, must be designed for lateral movements mixed with a large amount of jumping. It is not enough to simply move forward; one has to move side to side and forward, backward, up and down. Because a basketball shoe isn't designed for the sheer number of jumps that a volleyball player has, it quickly breaks down after a few months.
Interestingly, with volleyball, the force of landing an approach is at the amount of nine times our body weight. Yes, you read that right, nine times. A shoe has to be created to support the amount of force repeated time and again throughout a match.
The weight of the shoe matters. Basketball shoes tend to be heavier and broader in shape. While this helps for the purpose of basketball, for volleyball, the width of the shoes can be cumbersome on the court. The weight works against the ability to jump, using more energy than necessary and breaking down your game.
Historically, basketball shoes were made with leathery materials, limiting flexibility. The shoes make a player's foot conform to the shoe versus moving around the player. Today the shoes tend to made with mesh and knit, and only bits of leather or plastic. Still, the constant jumping weakens the shoe in the upper part of the shoe and again, causes the shoe to break down faster.
Can I wear running shoes for volleyball?
Just like basketball shoes, running shoes and other cross trainers are made with the intention of forward movement. Volleyball shoes are made with forward, backward, side to side, jumping and quick, sharp motions in mind, as well as the amount of time spent on the balls of the feet. The need for a heightened focus on traction is not as high in runners, either.
With athletic shoes, there is a component of weight that volleyball shoes minimize. With running shoes, the weight of the shoe is due to the material necessary for stability and cushioning. This weight would negatively impact a volleyball player that must be able to jump from a minimal range of motion.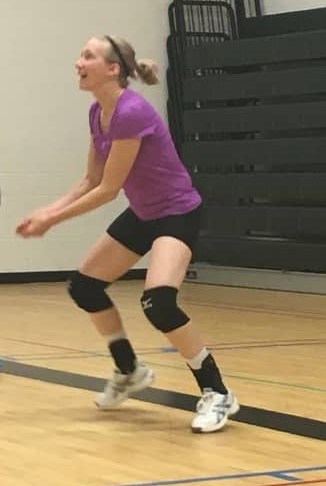 Further, the soles of volleyball shoes have the gum rubber, whereas this not used in other athletic shoes. Running shoes must be designed for a variety of surfaces, and gum rubber simply does not work for a multitude of surfaces. In fact, it is highly advised that your volleyball shoes be removed before you ever leave the gym so not to ruin the cushioning or the soles.
With volleyball shoes used on courts only, a shoe worn to practice and games should last a full season. If you do not play 4-5 times a week, you may be able to stretch your shoes out to a full year. Shoes not designed for volleyball tend to break down after a few months.
With your volleyball shoes, look for signs of decomposition. The sides by the ankle weakening or the shoe loosening during matches are both common clues. If you start to slip in your shoes, it is time to replace them.
Grab your shoes and play!
With volleyball players having access to court time year-round, there's really no reason to not grab a pair of shoes. Injury prevention, traction, breathability, better jumps, and cushioning all create the perfect shoe for playing.
If you are a multi-sport athlete, you can save your cross-trainers, basketball shoes, and runners for the sports they pertain to while you swap them out for your volleyball shoes. Don't worry – you can still wear all your other shoes when you change out of your volleyball shoes before leaving the court.
Ready to purchase your own pair of volleyball shoes? Check out our article: Top 5 Best Women's Volleyball Court Shoes for Indoor Games