So you've decided to get more active and you've joined a recreational volleyball league. Great! You're looking forward to getting some exercise, meeting new people, and learning a great, new sport. But you don't know what you should wear. You know the basics: gym clothes. But what else do you really need to bring before you (literally) hit the court?
Wearing the right sports gear, especially when you're starting a new sport, means you feel more comfortable and confident while you're learning. Plus, you won't look like a total newb!
Volleyball is a great sport because you don't really need a lot of equipment to get started. You need basic gym attire, including good indoor court shoes, and that's really it! The rest is optional. Once you start playing, you'll get to know what you'll need. But let's review what you might want to bring at your first game, to make your first volleyball experience even better.
Here is a quick checklist of what you'll want to wear:
The Basics:
1. Shoes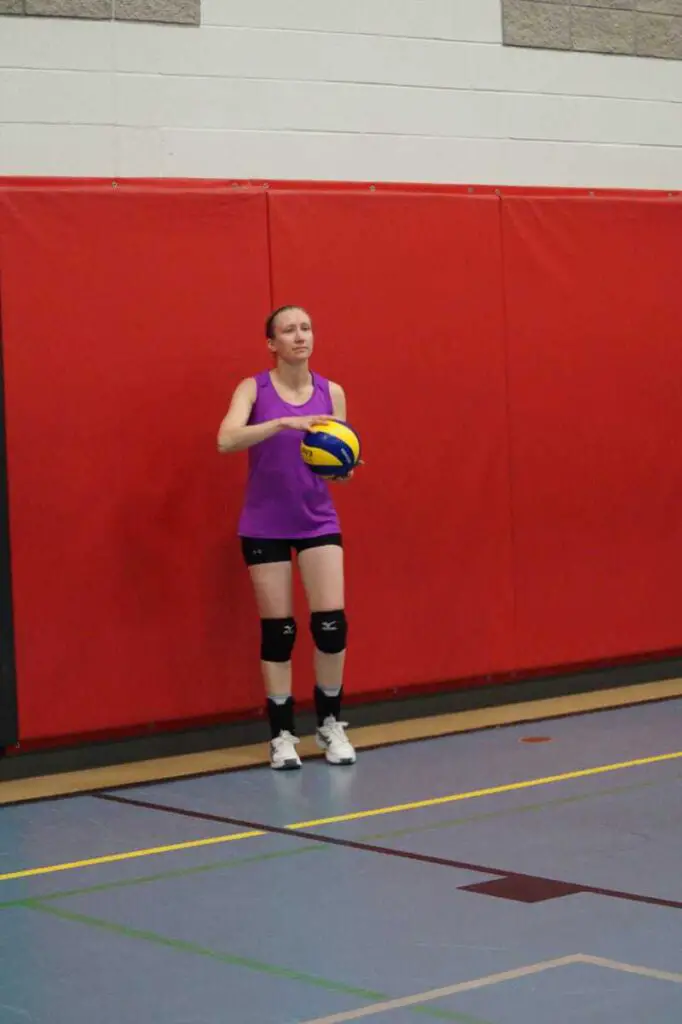 2. Fitted shirt
3. Shorts
4. Socks
5. Sports bra
The Optionals:
6. Top layer
7. Headband
8. Knee pads
9. Ankle braces
10. Sports glasses
The basics: Shoes, shirt, shorts, socks, and sports bra.
Basic gym clothes. Easy enough, right? Keep reading for some additional tips on each of these volleyball basics:
1. Court athletic shoes
When you're starting a sport, it's common to just wear any old pair of running shoes you have in your closet. However, volleyball is a court sport, which means that there is a lot of lateral movement (compared to the linear motion in running) and a lot of jumping. Is this really an important distinction to make for footwear? Absolutely.
Court shoes are designed to support forward, backward, and side-to-side movements, and also provide good cushioning for all that jumping. Running shoes are designed to keep you light on your feet while you're moving forward. The sole of a court shoe is especially important, because it provides good traction for all that starting and stopping action. Court shoes aren't as high as running shoes, which means they provide more stability.
Talk to a knowledgeable athletic shoe salesperson, and they will explain the benefits of wearing the right type of shoe for different athletic activities. Even better, take the time to try on court vs running shoes, and you'll feel the difference right away.
Click here for our personal review of the Asics Women's Gel-Rocket 8 and Mizuno Wave Lighting Z4
2. Fitted T-Shirt, Jersey, or Tank Top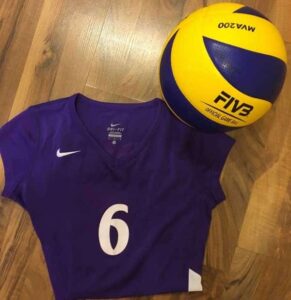 You've probably noticed that most volleyball players wear pretty fitted shirts. Is it because they are showing off their super-buff bods? Well, maybe a little bit. But, wearing a fitted shirt is also strategic. One of the basic rules of volleyball is that players (including their clothing) aren't allowed to touch the net. So, wearing a fitted shirt means that you're less likely to get a net violation call. Getting to show off your pipes is an added bonus.
Depending on the rules of the league you're playing in, you might have to wear a numbered and/or coloured jersey. This often differs with the league. Make sure you find out before your first game what the rules are, so you're not stuck riding the bench for your first game.
3. Shorts/Tights
Again, fitted option here is best as well, and there's a couple of reasons for that. Volleyball involves a lot of lateral movement and jumping. Wearing baggy sweat pants or shorts can get in the way when you're trying to move quickly. Also, once you're comfortable enough to start diving onto the floor for a ball, wearing fitted bottoms means that you don't have to worry about flashing anyone during your spectacular dives!
You'll often see women wearing spandex shorts, which are really quite comfortable once you're used to wearing them. And don't think you have to wear the short, bathing suit style that women playing competitive volleyball wear. Longer style, such as mid-thigh, are popular for recreational volleyball.
Men don't tend to wear spandex shorts, but will usually wear comfortable shorts, such as board shorts.
4. Athletic Socks
As with any sport, once you get moving in volleyball, you will start sweating. This includes your feet! You will want to wear athletic socks made from material that will wick sweat away from your skin.
Another important consideration is comfort. As mentioned, there is a lot of lateral movement in volleyball, so you'll want socks that are comfortable and thick enough to prevent chafing and blisters.
5. Sports Bra
Ladies, there is a lot of jumping in volleyball! You want to make sure YOUR ladies are secure and aren't bouncing around. Sports bras aren't cheap, but they are a great investment, and will help you feel comfortable and confident on the volleyball court. Because your sports bra is a base layer, look for materials that will help wick sweat away from your skin.
As with a regular bra, it's always recommended taking the time to try on different sports bras before you purchase. There are many different styles and materials to choose from. And comfort is an important consideration! You don't want a sports bra that is too constricting, but you want one that is snug enough to do its job.
The Optionals: Top layer, headband, knee pads, ankle braces, and sports glasses.
While these items are all optional, they might make your volleyball experience even more comfortable and safe. Here's how:
6. Top layer: Long-sleeve and Pants Layers
As you know, the basic rules of volleyball include that there's only 6 players per team on the court at a time. That means that everyone takes their turn sitting on the bench. Take it from me, once you're sweaty from playing, and then you're taking your turn sitting a game, you are going to cool down fast! Wearing a top layer means that you can stay warm while you're cheering on your teammates and be ready to hit the court when it's your turn again.
It's also common to wear a top layer of long-sleeves and/or pants during your warmup, before you've started to really break a sweat. Many volleyball players start their warmup wearing their top layer, then shed their layers as they start to get warmed up and sweaty.
Keep in mind that you'll want to have a top layer that's easy to put on/take off. Zip up hoodies or trainers are a great option. Also think about your bottom layer – you'll want pants that are wide enough to get over your shoes, because you definitely don't want to take off your shoes every time you're adding/removing a layer.
7. Knee pads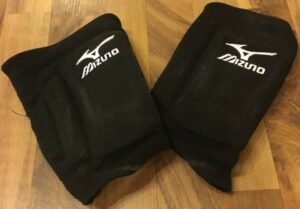 This is a real personal preference. Some volleyball players swear by their knee pads, while others feel they just get in the way of their mobility on the court. It may depend on your diving technique, or they could just provide a bit more comfort so that you're more likely to dive for a ball. Either way, there's no wrong choice. Plus, they make you look like a real volleyball player!
Click here for our personal review on Mizuno Knee Pads
8. Ankle braces
Again, this is very much a personal preference. Some volleyball players wear ankle braces because they've injured themselves, while others wear ankle braces to prevent an injury. There's a lot of debate over this!
Personally, it only took one ankle sprain for me to invest in ankle braces for BOTH ankles. I could not believe how painful it was! Once you sprain an ankle, it takes the ligaments a long time to heal and they can be susceptible to another sprain. So, I started wearing ankle braces on both ankles to prevent further injuries.
Click here for our personal review on Active Ankle T2 Ankle Brace
9. Headband
For those of you with long hair, having a headband is a great idea. It's hard to keep your eye on the ball when your hair is in your face! Good options are headbands that have rubber on them, so that they stay in place easier.
10. Sports glasses
I would suggest that, if you're able to, try to wear contact lenses instead of glasses. However, if you can't, or don't have contact lenses, you may want to consider sport glasses.
While the object of volleyball is to control the ball as much as possible, there are times when the ball is way out of control. The last thing you want is to get smacked in the face with the volleyball while wearing your glasses! I've seen it happen – it's not pretty and it can be really painful.
And although volleyball is not considered a contact sport, there are times when you collide into one (or more!) of your teammates. Remember, you're keeping your eye on the BALL – as are your teammates!
I actually got a black eye once from one of my teammates. We were both jumping to block a hit, and her elbow came down right on my eye! She obviously didn't mean it, but it's easy to get some bumps and bruises (even from your own teammates!) during a game.
Have Fun!
As with any new activity, start with the basics, and as you learn more about the sport, you'll get a good sense of what you want to wear when you're on the court – or taking your turn sitting on the bench, cheering on your teammates!